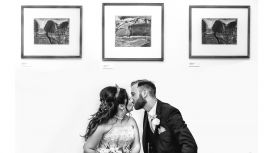 About the Business
Premium
Hello! I'm Declan West, a Welshman living in Manchester.
I've been a wedding photographer now for around 8 years and began to develop my wedding videographer skills 4 years ago. Since then I've met the weirdest and wonderful people, and wouldn't change it for the world!
I work in a very relaxed, professional manner – the last thing you want on your wedding day is someone becoming an extra burden. I work to how is best for you; invisible documentary style or orchestrated posed photographs.
I also work on landscape commissions and stay involved with the music scene where possible.
Business Services
---

Wedding photography & videography:
So, I offer both wedding photographer and wedding videographer services. I am currently offering dual photo and video for a discount, not only does this save you money but you ultimately have less people around you on the day.
Landscape:
I love challenging the norm of landscapes – from day to night photos to drone point of view images. Please contact me for landscape commissions – get a day to night version of your favourite view!
Music:
Music videos, promo shoots, live photos, tour photographer and full concert recording – I've worked with artists from Professor Green and Temper Trap to Kids in Glass Houses, Don Broco, Skindred & Neck Deep.
Still life & commercial:
I offer everything from office headshots, promo videos, commercial event coverage and more. Anything your business requires, I'll be happy to do, both photography and videography.
Reviews
---
Laura Hinds
10 Feb, 2020
Bacup, Lancashire
Declan shot our wedding earlier this year, he was professional, understanding, approachable and happy to reassure me during my wedding planning meltdowns! He was creative, ensuring he captured the shots we wanted and more. He was "invisible" enough so we didn't feel like we were being photographed all day. The results are beautiful, we are so happy. I would definitely recommend Declan West Photography to anyone!
Sophie Lauren
11 Feb, 2020
Declan is a highly skilled photographer, he captures every detail & special moment just perfectly Keeps everyone feeling at ease & comfortable, resulting in an enjoyable stress-free environment... which I think is so important especially on your wedding day!!!! I can't recommend him highly enough, awesome guy and I look forward to working with him again in future.
Kieran Robert
11 Feb, 2020
Professional and great quality work, and from a graphic design viewpoint that's exactly what you need when your editing your portfolio. I would definitely recommend him to my colleagues.
Location & Hours