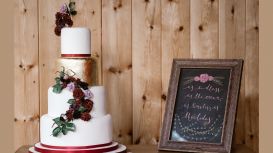 MyFairCakery started life creating cakes for celebrities with some well publicised cakes for stars such as Bradley Cooper, Chris Evans, Damien Lewis and Robert Lindsay. It wasn't long before people started asking for wedding cake designs and so gradually more and more wedding cake orders came in.
We still create celebrity cakes but we absolutely love the joy that wedding cake design and creation brings.
Many of our clients are London based as we were so used to heading to the city for the theatreland cakes but we also have lots of commissions for clients in Essex, Suffolk, Kent, Herts and other locations.
All designs are unique and our expert sugar-craft is all handmade during the creation process, stylewise the only limit is your imagination and we have created cakes that cover the whole design spectrum. We have delivered cakes to wedding venues such as Rower Bridge and One Whitehall Place as well as the Hellfire Caves in High Wycombe. Rural wedding cake deliveries cover venues such as Woodhall Manor in Suffolk, Woolverstone Hall and Channels in Chelmsford plus many other top venues.
It all starts with an email or a telephone call and we will use our friendly but confident manner to assist you with bringing your perfect cake to life. It is not uncommon for people to have almost no idea beyond a colour but we will always evolve from a simple colour theme to a fully fledged designer cake.

Our website and Facebook page displays our portfolio of talent, MyFairCakery have never been late with a cake, have never delivered a damaged cake and have never had a complaint.
We cater for all dietary needs including allergy and lifestyle choices.
Let us bring your dreams to life.

Reviews and Ratings
I had a unique wedding in a cave! My fair cakery made the most amazing, tasty zombie gothic wedding cake with beautiful sugar craft and moist sponge. The cake was certainly a talking piece, excellent! Thank you.
Catherine made my daughters 1st Birthday cake and it was amazing!! Will be booking all my family's birthday cakes with Catherine!! 5 star service!!
Beautiful and innovative cakes- we have been so pleased by the cakes My Fair Cakery have made for us in the past. Recently we were honoroured to have our wedding cake made by Cathy and it was stunning. So personal and everyone commented on how amazing it was.